Bersambung semula trip Jakarta Bandung 2013. Padahal pergi bulan 6, bulan 10 baru nak update untuk day 3.Apa nak jadi??
Shopping at Bandung.
Aku rasa nak bagi tips shopping di Bandung ni dah berlambak tips-tips aku bagi.
If nak baca pengalaman bershopping dan berjalan pada tahun 2010 dan 2011 boleh refer to this post for 2010 and this post for 2011.Tapi dah jenis macam aku memang suka dengan tips. Here tips PLACE
utama untuk bershopping di Bandung ialah :
Factory Outlet di Jalan Riau

Factory Outlet di Jalan Setiabudi

Factory Outlet di Jalan Dago

Paris Van Java Mall, Jalan Sukajadi

Pasar Baru Trade Centre
Sedikit tips pemilihan tempat dan hari ketika bershopping di Bandung.
Factory Outlet boleh pergi weekdays or weekend sebab harganya tetap dan lebih kurang sama. Menjadi perbezaan, ada sesetengah Factory Outlet tidak menjual baju yang anda mahukan. Jadi pergi le ke Factory Outlet di jalan yang lain akan menjual baju yang anda mahu. Jadi banyakkan lah ye, buat survey.. heehe. Factory Outlet memang banyak,dan banyak jenis baju branded di jual.
Digalakkan pergi waktu weekdays , sebab kebiasaan orang Jakarta akan turun weekends jadi harga di Pasar Baru akan naik dua kali ganda. Di tambah lagi kalau pergi musim cuti sekolah Malaysia, lagi lah harga dia boleh melonjak dua tiga kali ganda berbanding biasa. Jadi kalau nak menawar tu seelok-elok pergi awal pagi dalam Jam 8 sebab peniaga baru buka kedai dah kurang orang. Biasalah, peniaga-peniaga memang percaya kalau first customer ni bawa "Ong". Jadi gunakan kesempatan yang ada menawar pada harga rendah. huhuhu
Paris Van Java Mall (PVJ)
Entah kenapa aku suka lepak disini sekejap. Mungkin sebab nak beli Jco Ice Cream Yogurt dengan harga lebih murah berbanding di Malaysia. Selain itu, beli barang groceries
yang tak ada kat Malaysia
di Carrefour PVJ Dah jadi habit kami setiap kali ke Indonesia beli 3 barang ni
Freshcare - minyak angin yang bau wangi dan menggunakan botol roll-on.
Sosro Fruitea- berbanding Teh Botol, kami lebih sukakan fruitea sebab lagi sedap dan kena pada tekak aku. Maaf la aku memang tak suka rasa teh jasmine... Aku ada gak update blog, khas untuk air ni. Boleh baca post ini. Please click "here".
Instant Noodle ABC & Pop Mie- maggie ABC dan pop-miee ni bukan aku yang cari, tapi ni adik aku sebab dia jenis suka makan instant maggie . Dia kata lagi sedap dari Malaysia punya.. Kurang pasti kesahihan benda ni, sebab aku hanya makan bila travel sahaja. wahahha
Fresh Care
Photo Courtesy : Google
Sosro- Fruit Tea
Photo Courtesy : Google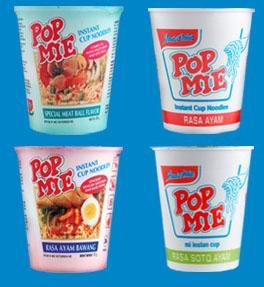 Intstant noodle ABC dan Pop-Mie
Sebenarnya tak banyak gambar aku waktu bershopping disana, just shopping sikit barang. Pergi ke sana pun , cuma nak beli seluar dan bajukerja. hahha. Betapa committed aku pada kerja sampai ke sana pun beli pakaian untuk kerja. ish.ish..
P.S: Tak seronok blog tanpa gambar, nanti aku update gambar ye.. Stress sebentar, macam tak ada peluang nak bercuti. deng!